Welcome to Advanced Dental Hygiene
We provide comprehensive soft-tissue laser certification courses nationwide. Advanced Dental Hygiene is a nationally recognized program provider by The Academy of General Dentistry Program Approval for Continuing Education (AGD-PACE). We provide an interactive learning experience to help participants feel confident to incorporate laser dentistry into their practices first thing tomorrow morning.
Happy Lazing!
The ADH team
All 8 Hour Courses: $465 RDH, $565 DDS
All 12 Hour Courses: $565 RDH, $665 DDS
Our 12 CEU Laser Certification courses are approved in both Texas and Kentucky.
These are the only states that require a 12 CEU Laser Certification Course.
SAT – JUN 8 – San Diego, CA: Diode Laser Training and Certification
08:00 AM – 05:00 PM – Location: Concorde Career College – 4393 Imperial Ave, Room 202-204, San Diego, CA 92113
FRI – May 10 – Denver, CO: Diode Laser Training and Certification
*3 Spots Remaining*
08:00 AM – 05:00 PM – Location: Peebles Prosthetics, 909 Wadsworth Blvd, Lakewood, CO 80214
FRI – June 14 – Denver, CO: Diode Laser Training and Certification
7:45 AM – 4:15 PM – Location: Peebles Prosthetics, 909 Wadsworth Blvd, Lakewood, CO 80214
SAT – September 07 – Colorado Springs, CO: Diode Laser Training and Certification
08:00 AM – 05:00 PM – Location: 595 Chapel Hills Dr, Colorado Springs, CO 80920
FRI – AUG 9 – Denver, CO: Diode Laser Training and Certification
08:00 AM – 05:00 PM – Location: Peebles Prosthetics, 909 Wadsworth Blvd, Lakewood, CO 80214
SAT – June 01 – Chicago, IL: Diode Laser Training and Certification
08:00 AM – 05:00 PM – Location: Midway Education Center, 185 Hansen Court Suite 110, Wood Dale, IL 60191
Located at the north end of the complex facing Thorndale Ave and the highway 
This location is very close to Chicago O'hare Airport
Hotel discount available at the DoubleTree by Hilton Hotel Chicago Wood Dale-Elk Grove, Reference "Midway Dental"
SAT – June 08 – Wichita, KS: Diode Laser Training and Certification
SAT: 08:00 AM – 05:00 PM – Location: Wichita State University, 1845 Fairmount, Rm: JB 126, Wichita, KS 67260
SAT – May 04 – Kansas City, MO: Diode Laser Training and Certification
SAT: 08:00 AM – 05:00 PM – Location: Concorde Career College, 3217 Broadway, Room 303, Kansas City, MO 64111
SAT – AUG 10 – St. Louis, MO: Diode Laser Training and Certification
SAT: 08:00 AM – 05:00 PM – Location: Total Wine, 13887 Manchester Rd, Ballwin MO 63011
SAT – September 21 – Kansas City, MO: Diode Laser Training and Certification
SAT: 08:00 AM – 05:00 PM – Location: Concorde Career College, 3217 Broadway, Room 303, Kansas City, MO 64111
SAT – June 1 – Buffalo, NY: Diode Laser Training and Certification
8:00 AM – 5:00 PM – Location: Evolution Dental Science
235 Aero Dr. Buffalo, NY 14225
Near Buffalo Niagara Airport. Hotel discount at The Delavan Hotel-room block under Evolution Dental – Laser Course
FRI – June 14 – Portland, OR: Diode Laser Training and Certification
SAT: 08:00 AM – 05:00 PM – Location: Carrington College, 2004 Lloyd Center 3rd Floor (Lloyd Center Mall), Portland, OR 97232
College is in the West Wing (Old Nordstrom) Rm – TBD
FRI & SAT – April 26 & 27 – Houston, TX: Diode Laser Training and Certification
*1 Spots Remaining*
FRI: 08:00 AM – 05:30 PM, SAT: 07:30 AM – 10:30 AM – Location: Forward Science,  10401 Greenbough, Suite 100
Stafford, TX 77477
FRI & SAT – May 17 & 18 – Dallas, TX: Diode Laser Training and Certification
*5 Spots Remaining*
FRI: 08:00 AM – 05:30 PM, SAT: 08:00 AM – 11:00 AM – Location: Concorde Career College, 12606 Greenville Ave, Dallas, TX 75243
FRI & SAT – June 7 & 8 – Dallas (McKinney), TX: Diode Laser Training and Certification
FRI: 08:00 AM – 05:30 PM, SAT: 08:00 AM – 11:00 AM – Location: Central Park Campus, 2200 W. University, McKinney, TX 75070
Collin College McKinney Campus Conference Center, Classroom F-122
FRI & SAT – June 21 & 22 – Lubbock, TX: Diode Laser Training and Certification
FRI: 08:00 AM – 05:30 PM, SAT: 09:00 AM – 12:00 PM – Location: Lone Star Shooting Sports, 6020 43rd Street, Lubbock, Texas 79407
FRI & SAT – August 02 & 03 – Dallas, TX: Diode Laser Training and Certification
FRI: 2:00 PM – 6:00 PM, SAT: 07:00 AM – 3:00 PM – Location: Concorde Career College, 12606 Greenville Ave, Dallas, TX 75243
*Breakfast and lunch provided Saturday
Snacks only for Friday afternoon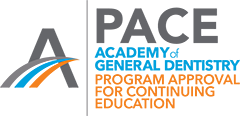 Advanced Dental Hygiene is designated as an Approved PACE Program Provider by the Academy of General Dentistry. The formal continuing education programs of this program provider are accepted by AGD for Fellowship, Mastership, and membership maintenance credit. Approval does not imply acceptance by the state or provincial board of dentistry or AGD endorsement. The current term of approval extends from 1/1/2018 to 12/31/2019. Provider ID# 381332