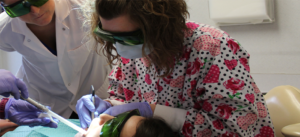 Dentistry is a progressing and most demanding field in the health industry. It deals with health troubles related to the mouth, teeth or gums. Apart from regular teeth removal, the process of dental treatment also includes dentures, filling, fitting, surgeries, replacing extracted teeth, cleaning of mouth and teeth, and teeth whitening. With the introduction of the new curriculum in dentistry, it becomes essential to pursue a dentistry course in Colorado to ensure student's familiarity with the best patient's care. An institute plays a vital in shaping up a student's career. Advanced Dental Hygiene is one such institution training student's all over Colorado and other areas on the recent techniques and technologies. Each of our course curriculums is designed in a way to put emphasis on the market trends.
Objectives on Dental Lasers Course
Types of lasers and how they are different from each other
How lasers are beneficial for the patients
Safety guide on the application of laser
How dentist/hygienists should perform a laser procedure
Increasing production with laser
Choosing the right dental laser for the treatment procedure
Cost of laser treatment
Usage of the laser in dentistry is nowadays a very common practice for both dentists and orthodontists. A laser tool is used in common procedures like for treating the health of your mouth and teeth and even for cosmetic purpose namely teeth whitening. Use of dental lasers usually offers patients with positive and pain-free experiences. Choosing dental lasers over a traditional one eliminates the need of anesthesia; less pain is felt thus making the healing procedure fast.
Laser use in dentistry is gaining popularity these days because of its dentistry-friendly nature. Aspirants planning a career in dentistry can experience a huge growth by pursuing a dental laser training certification course. Dental lasers are used in surgery with an aim to optimize photobiologic effects.
Lasers are used in oral care to treat multiple problems like :
Teeth Whitening – a peroxide solution applied to the tooth and with the application of laser energy, it fastens the whitening process.
Tooth Decay – removes the decay and prepare the enamel for the filling procedures.
Biopsy – used to remove a small piece of tissue, which helps to inspect cancer.
Gum problems – reshaping gums and removing bacteria.