Laser technique has been used in dentistry over the past two decades to treat a lot of oral and dental problems. Many dentists use lasers as a treatment option for oral health issues, including tooth decay and gum problems. Most recently dentists have started to use the laser in cosmetic dentistry procedures. The use of laser in dentistry is one of the appropriate alternatives for people suffering from pain and discomfort. It eliminates the anxiety in patients, who avoid visiting dentists because of fear. Dentists perform the dental procedures on their patients by using lasers.
There are numerous benefits of using lasers. Some are listed below
Lasers are used in the treatment of gums
In the removal or reshaping of gum and bone tissues
It eliminates the discomfort of aphthous ulcers
Reduces discomfort in the root canal surgery
Treats cavities
Effectively whiten the dentition
Lengthen crowns
Remove overgrown tissues and inflamed gum tissues
Expose the partially erupted wisdom teeth
Dental lasers are considered to be safe and effective than other treatment methods. Dental experts use the laser in conjunction with other dental instruments to maintain oral hygiene and for hassle-free cosmetic dentistry procedures.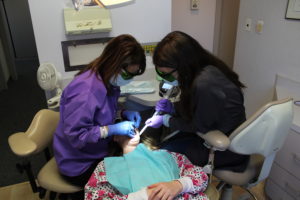 With the introduction of dental lasers, non-surgical laser gum treatment is predominant as a treatment of choice for treating gum diseases. It is a safe and effective alternative to painful, invasive gum surgery. Lasers are used to treat periodontal disease. This surgical technique involves the cutting of gums with a scalpel and pulling of the tissues from the jaw. At the end of the procedure the gums are stitched back and after that, the healing process starts to occur and the patient can return to normal and healthy life.
At Advanced Dental Hygiene, we offer affordable, scientific-based soft-tissue laser certification courses with a focus on periodontal applications for the dental hygienist. It is a very informative course that will cover all the topics on dental lasers that are currently dominating the market. The course also emphasizes on soft-tissue diode lasers procedures, codes, typical fees and types of diode lasers. The role of lasers in the dentistry is playing a vital role to give a pain-free treatment experience to the patients.